Hearing Aid
Evaluation
Hearing aids are often recommended to those who have permanent hearing loss. There are many types and styles of hearing aids from which to choose. During the hearing aid evaluation at Hoffmann Audiology, Dr. Chris Hoffmann will help you find the best hearing aids for your needs. Of course, the final decision is yours, and Dr. Hoffmann will work with you through every step of the process to ensure that you have the best possible results.
What Happens

at a Hearing Aid Evaluation?

A hearing aid evaluation is performed to determine if you would benefit from a hearing device. During the hearing aid evaluation, a case history is taken to determine the impact of hearing loss in your daily life. You may need to provide some basic information about your health history and when and how the hearing loss began.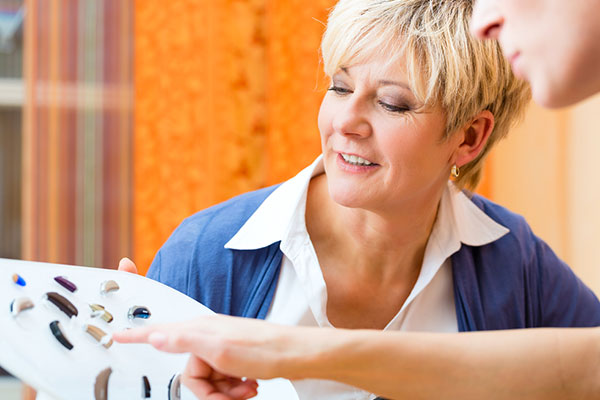 What Happens When You Have a

Hearing Test?

A hearing test is performed so that Dr. Hoffmann will have a better understanding of your hearing loss and determine whether any medical issues are affecting your hearing ability. Your test results will also help her understand which sounds you may be hearing or missing. This allows her to recommend the best treatments to help overcome your hearing problems.
How Hoffmann Audiology Recommends

the Perfect Hearing Aids for You

During the hearing aid evaluation, Dr. Hoffmann helps you select the best hearing aids for your hearing loss, your lifestyle, and your budget. During the appointment, you can examine different styles of hearing aids and can even try them out in the office. Some features and styles of hearing aid may be more appropriate for your particular occupations and hobbies, so make sure to explore different hearing aids before selecting yours.

Once you have made the decision, Dr. Hoffmann will take physical measurements of your ears and make ear impressions if required for your style of hearing aid. She also will program your hearing aids to meet your unique hearing requirements, make adjustments to ensure the best listening experience, and ensure that you are completely comfortable with the use and care of your new hearing aids.

Want a recommendation for hearing aids or need help selecting the right hearing aids for you? Call us at 949-536-5180 to schedule an appointment with Dr. Chris Hoffmann today!