Looking for Hearing Aids in Irvine?

You Are in the Right Place!

Hoffmann Audiology is a trusted hearing aid center in Irvine that provides the best hearing aid recommendations and assistance to improve your hearing. We have helped hundreds of hearing aid patients from nearby areas, including Costa Mesa, Tustin, Santa Ana, Fountain Valley, and Anaheim.

Our team includes Dr. Chris Hoffmann – a licensed hearing care professional and Noel Hoffmann – a licensed hearing aid dispenser. We will help you find the ideal hearing aids to meet your hearing requirements and lifestyle. Our excellence and expertise in programming custom-fit hearing aids enable us to provide a personalized hearing experience for our patients.

At our hearing aid clinic, we make every possible effort to provide hearing aids that positively impact your hearing health and provide the latest hearing technology.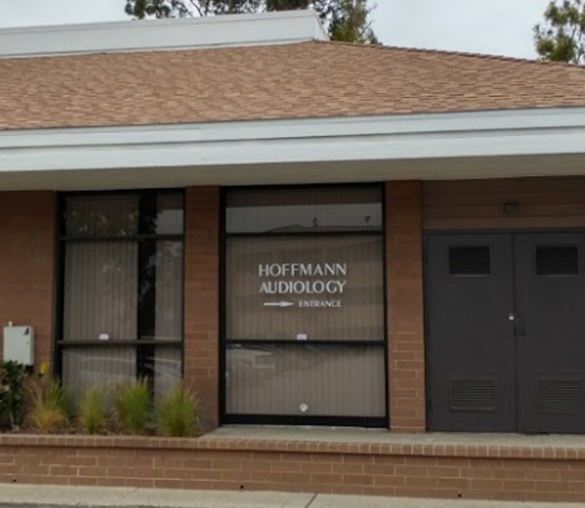 Hearing Aid Types

and Brands Available with Us

Hearing aids have undergone a tremendous evolution in technology, features, and functionalities. Modern hearing aids can be digital, wireless, and even invisible (completely inside the ear canal). Hearing aids also come in a variety of shapes and sizes, broadly categorized as Behind-the-Ear (BTE) and In-the-Ear (ITE) options. Learn more: Hearing aid types.

As a distinguished audiology practice, we work in collaboration with all major hearing aid brands to provide you with extremely personalized hearing aid solutions custom-made to fit your unique needs. Here are the major hearing aid brands we work with:
Unitron
Oticon
Widex
Starkey
ReSound
Phonak
Signia
Whether you want a hearing aid that can connect with your smartphone and smart TV, or are looking for a more affordable option that can proficiently perform the basic tasks, we have them all for you!
Expect Unmatched Audiology Expertise in

Hearing Aid Recommendation and Selection

Not all hearing aids are designed to overcome every type of hearing issue. For example, you may have hearing loss coupled with continuous buzzing or ringing in your ears (symptoms of tinnitus). In that case, you may need a hearing aid that also has tinnitus therapy features. This is why it is important to get hearing aids from a hearing aid specialist rather than buying one over the counter or mail-order.

Our audiologist, Dr. Chris Hoffmann, has 15 years of clinical experience in diagnostic hearing evaluation, hearing aid fitting, and aural rehabilitation. She has a Master's degree in Communicative Disorders from Cal State Long Beach and a Doctorate of Audiology from the University of Florida. Dr. Hoffmann will help you select the best hearing aids to help overcome your hearing difficulties and enhance the quality of your life.

Here is the process of getting hearing aids from Hoffmann Audiology in Irvine, CA:
Medical History: At your first appointment, you will have a detailed conversation with Dr. Hoffmann, who will ask you about your symptoms, any related conditions, and your medical history to help determine your hearing condition and its causes.
Hearing Evaluation: You will undergo a diagnostic auditory evaluation (hearing test) to determine the type and degree of hearing loss you may have. Learn more about hearing tests.
Hearing Aid Evaluation: A hearing aid evaluation will be performed to determine if you would benefit from a hearing device, and what type of device you should select. You will have a lot of hearing aid options to choose from. Learn about our complete process during a hearing aid evaluation
Hearing Aid Fitting: Once you have made your decision about hearing aids, Dr. Hoffmann will then fit them to you, based upon your individual prescription and the physical size and shape of your ears, by using the Real Ear Measurement (REM) technique.
Follow-Up Appointments: A follow-up visit is normally scheduled for one to two weeks after the initial fitting. A second follow-up appointment may also be scheduled for one to three months for small adjustments and additional instructions.
Dr. Hoffmann will be with you through every phase of your hearing aid selection process to ensure that you have the best possible results and exceptional hearing experience.
Why Hoffmann Audiology for
Your Hearing Aid Needs
Dr. Chris Hoffmann and Noel Hoffmann are a wife and husband team of an audiologist and a licensed hearing aid dispenser. Both make it possible for patients to get flawless and on-point hearing care assistance and customized hearing aids under one roof. With our teamwork, we can ensure that you get the hearing aids that are best suited to your hearing loss and hearing needs.
To learn more about hearing aid options available with us, please call us at 949-536-5180 or click on the button below to schedule an appointment online.